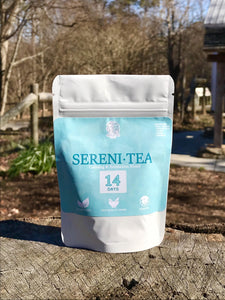 Sereni-Tea: Calming & Relaxation Blend

Our Sereni-Tea: Calming & Relaxation blend contains 6 all-natural, alkaline herbs perfectly formulated to calm the nervous system, providing a wave of calm and peaceful feelings throughout the body. 
Helps at the core to address issues such as: Insomnia, Anxiety, Depression, Moodiness, Nervousness, Muscle Tension, Headaches, Digestive issues and more!
Our Sereni-Tea: Calming & Relaxation blend includes:
Blue Vervain

Valerian root

Linden flower

Catnip

Damiana

Skullcap
How To Prepare?
Bring 2 cups of Spring water to a boil
Turn heat to low
Scoop ONE teaspoon of tea into the pot or our

 

heat-sealable teabag
Cover the pot
Steep for 20 minutes
ENJOY! (Strain if you didn't use a teabag)

 This information has not been evaluated by the Food and Drug Administration. This product is not intended to diagnose, treat, cure, or prevent any disease. We do not claim to have a cure for any disease. The information on this website is opinion based and for informational purposes only. Consult with a licensed healthcare professional before use.
Tea is Working
This tea is helping me sleep , it really works .
FINALLY deep sleep and waking well rested
I've been drinking my Sereni-Tea for a week now and It knocked me out that first night! My mom and husband also tried it and it worked immediately for my mom but it took about a week for my husband to notice the effect. Now we're all getting amazing sleep and waking up ACTUALLY well rested (unlike melatonin..). Not even my THC pen would relax me and knock me out like how this amazing tea does. Thank you for this life saving product we will continue to purchase!!
Love This Tea
Just get it. It's worth it. Its tea so it takes 15-20 min to feel the effects but by far is the best tool I have to fight my anxiety. I also have the Anxiety Tea and the ClariTea. Love them all and very thankful for the couple who created this. Forever grateful.
Slept better than I have in weeks!
With the upcoming holidays and all of the stressors that come with them, I was feeling tense and a bit agitated one evening. I decided to brew my first cup of Sereni-Tea. The taste is a bit off-putting and will take some getting used to but I just added some honey and gave it a shot. I sipped it until it was almost cold while I bustled around the house doing chores, thinking that it wasn't having any effect on me. Ha! I found out soon enough that I was wrong. When I went to bed a short time later I was so relaxed that I couldn't even stay awake to watch my TV show. And I slept so soundly thru the night without waking up once. I definitely felt renewed when morning came. I was honestly shocked. This is not something that happens for me lately. I have already told some of my closest friends about these teas and recommended they try them. I will definitely buy more from this company. Right now I am using the Anxiety-Free tea and loving it! And the taste and smell of it are much easier to handle. Highly recommend!! Bravo to this company. Keep up the good work! And thank you for helping me find natural remedies to calm my nerves and keep my sanity in check.
Excellent Tea to help calm the mind & sleep!
I've been drinking Sereni tea for about 5 mos now. I love it! I can finally fall asleep and stay asleep. I did not really think this tea would work for me. I have had severe insomnia for 30 years. I was on Ambien for 15 years, gratefully I was forced to get off this medication. However I would not sleep for days at a time and my health was suffering from severe sleep deprivation. Once I started taking this tea it took several days before anything happened. But when it did start working, it was amazing! My mind was not on that awful hamster wheel. My mind was calm, quiet and I felt a natural drowsiness that was not pharmaceutically induced. The other plus is you don't wake up in a fog. You wake up clear minded and rested. My son had also been experiencing severe insomnia. I had him try this tea. He said "I woke up in the morning and I have no idea how I fell asleep". You must try this tea! Give it time if you don't notice anything the first few days, you won't regret it. Thank you to those that make these amazing teas. I'm profoundly grateful.