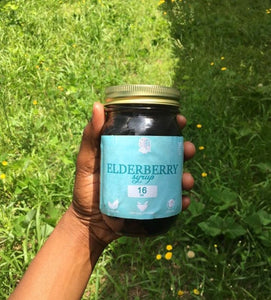 Elderberry Syrup
Cough medicine? No thanks! Try some of our Premium Elderberry Syrup made with 100% all-natural, alkaline herbs made by nature to protect against viruses, supercharge the immune system, eliminate mucus from the body and reduce the chance of catching common cold, flu, and other common illnesses. 
We always choose ORGANIC.
Clinically proven to boost immune system.
Cold and flu prevention
Already sick? Elderberry has been proven to reduce severity of symptoms and shorten length of illness by 2 - 4 days.
Take 1 tablespoon a day for preventative measures. Take 2 tablespoons every 2 hours for active illness.
What's Inside?
Elderberry
Mullein
Clove
Ginger
Agave

 This information has not been evaluated by the Food and Drug Administration. This product is not intended to diagnose, treat, cure, or prevent any disease. We do not claim to have a cure for any disease. The information on this website is opinion based and for informational purposes only. Consult with a licensed healthcare professional before use.
Good quality
Really excited to try this product ! I've been looking for some quality elderberry for quite awhile. Really happy with the size of the jar. I wish they gave the option to have spring water but other than that I'm very pleased. I also am going to start my 3 month old on a small dosage of some.
Happy to have found Cerebral Teas
I'm very happy with the ingredients, size of the jar, price, and taste of this elderberry! My husband and I have been taking it daily and more when we have felt a little under the weather and we felt much better with a day or two. We will be ordering again soon!
It Really Works!!!!!
I immediately saw results - my inflammation is gone.....