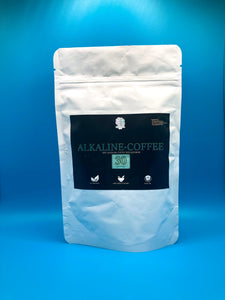 Premium Alkaline Coffee
Our 'Premium Alkaline Coffee' is a 100% natural, organic and caffeine-free Coffee replacement made with some of the most healing alkaline herbs in the plant kingdom! 
Caffeine is a toxic substance that causes unnatural stimulation in a part of the brain called the amygdala, creating a fear/anxiety response. Even a little bit of caffeine alters the brain chemistry in a way that feeds the condition of Anxiety. 
Our Alkaline Coffee is made with a special blend of Chaga mushroom, Roasted Dandelion root and Mexican Sarsaparilla root. Enjoy benefits such as:
Increase energy
Increased oxygen flow throughout the body
Fight inflammation
Lower cholesterol
Lower blood sugar
Anti-cancer properties
Boosts immune system
& MORE!
WHAT'S INSIDE?

Chaga Mushroom
Roasted Dandelion Root
Mexican Sarsaparilla Root

HOW TO PREPARE?
Bring 2 cups of Spring water to a boil

Turn heat to low

Cover the pot

Steep for 20 minutes

Add Sweetener (Recommend: Date Syrup)
Add unsweetened nut milk (optional)

ENJOY! (Strain if you didn't use a teabag)
 This information has not been evaluated by the Food and Drug Administration. This product is not intended to diagnose, treat, cure, or prevent any disease. We do not claim to have a cure for any disease. The information on this website is opinion based and for informational purposes only. Consult with a licensed healthcare professional before use.
Great substitute for regular coffee
This tea is a great substitute for regular coffee. No caffeine so you don't crash after it wears off. It doesn't send you to the bathroom either. I drink mines with creamer. The taste is not as strong though. Only down side is the extremely slow shipping. It took over a month to receive.
Alkaline Coffee
I THOROUGHLY enjoy this coffee substitute! I love the taste and the health benefits! Definitely a better choice and feel! Thank You!
The best
I was apprehensive about trying because I've tried some before and hated it, but it is honestly so good and I don't even think about coffee anymore...and I work in a coffee shop no bs.
It gave me a good boost of energy and it is delicious, without the shakes or anxiety. I add honey and oat milk to mine! Will buy again for sure!