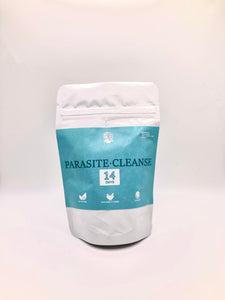 Parasite Cleanse
Our Parasite Cleanse features 3 alkaline herbs that are known in the holistic community to help kill and cleanse parasites from the intestines. Our blend includes:
Wormwood
Black Walnut hull
Cloves
Why kill and remove parasites from the intestines? Parasites are known to cause many issues including bloating, cravings, anxiety, depression, sleep problems and much more. Parasites also steal the nutrition from the food you eat, leaving you with scraps. 
Use this alkaline blend to help eliminate intestinal worms, especially roundworms and pinworms. Pinworms are the most common parasite infection in the U.S. Drink for 14 days, twice per day. 
*Not recommended during pregnancy/breastfeeding.

HOW TO PREPARE?
Bring 8oz - 10oz of Spring water to a boil
Turn heat to low
Scoop ONE teaspoon of Parasite Cleanse into the pot or our

 

heat-sealable teabag
Cover the pot
Steep for 15 minutes
DRINK 2X PER DAY FOR 14 DAYS! (Strain if you didn't use a teabag)
This information has not been evaluated by the Food and Drug Administration. This product is not intended to diagnose, treat, cure, or prevent any disease. We do not claim to have a cure for any disease. The information on this website is opinion based and for informational purposes only. Consult with a licensed healthcare professional before use.
Not recommended during pregnancy/breastfeeding. 
Wasn't as bad as I thought! 🤣🤣
Boy is this stuff BITTER! I made it to the 10th day before I had to stop. My tongue got used to the taste and I added a little honey in it. It wasn't that bad. Definitely used the restroom allllllot. BUT the colon cleanse one was waaaaaaaay worse lol in a good way didn't last a day with that one. Please make them both in capsule form I will be praising Jesus when you do and definitely be stocking up 🙏🏾🙏🏾🙏🏾🙏🏾🙌🏾🙌🏾🙌🏾
Couldn't stomach the taste :(
I was so excited to try this bc I am OBSESSED with the Anxiety tea and the Healthy Queen tea…oh the the immunity tea. Fair to say I have loved all of Cerebral teas! But, this parasite tea tasted not good. I can usually grit my teeth and swallow something that's healthy for me but the taste was so strong, it stung my mouth and I just couldn't do it. I added some stevia to it and it made it worse. lol
I'd try again if something made it taste better.
So far so good
It's very bitter, but after drinking it I felt good, I suspect I might have parasites as I've been having anxiety and digestive issues
Help with taste?!
I was so excited to try to parasite cleanse, but I had no idea how bitter and harsh the brew was going to taste. I reached out via Instagram DM for advice on whether I could sweeten it, but I haven't heard back. I have only had one cup; I can't bring myself to make anymore. I really, really want to use and like this product. Help!?
On an unequivocally positive note... the tea bags worked great, and the steeping instructions were easy to follow.