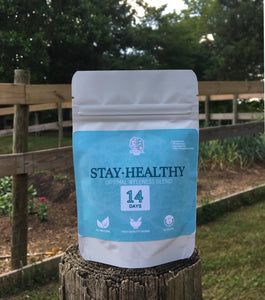 The Original 'Stay-Healthy' Tea Blend

Super Fruits & Veggies in a single cup of herbal tea? Yes, please! Introducing our original 'Stay-Healthy' blend providing you with all around, long-term holistic health benefits to leave you feeling better than ever!
This trio-blend offers an amazing amount of minerals and nutrients that serve the entire body, bringing you vibrant energy and a clear mind. Drink one cup of tea per day and feel real results!
What's Inside?
Watercress root
Sarsaparilla root
Wild Strawberry Leaf
A Closer Look
WATERCRESS
Is Watercress the best vegetable of all time? We think so. We're not alone either. In 2014, Watercress ranked #1 on the CDC's list of Powerhouse Fruits and Vegetables for preventing chronic disease.
This overlooked, sometimes hard to find vegetable beat out every single fruit and vegetable in existence for it's nutrient-dense, healing properties. The benefits are endless, including cancer prevention, improved immune function, extremely healthy for the heart, purifies blood and lowers blood pressure and much more!
SARSAPARILLA
 Watercress alone is an incredibly healthy tea to drink, but mixing a bit of Sarsaparilla takes it up a couple notches. Sarsaparilla is one of our favorite herbs ever, providing tons of natural iron, which gives you natural energy and brings your body to life!
Other than providing your body with loads of natural iron and other essential minerals, Sarsaparilla is also known to improve immune function, treat coughs and colds, purify blood, cleanse kidneys, helps maintain proper hormonal balance, nourish the nervous system and much more!
 WILD STRAWBERRY LEAF
Wild Strawberry Leaf has been used since ancient times to help with many ailments. Another overlooked addition to the blend that packs a powerful "Super-food" punch. Strawberry leaf is the perfect way to wrap up this trio-blend to provide you with tons of natural minerals that help improve digestion, purifies the blood, treats kidney stones, treats gout, support liver health, anti-inflammatory, and much more!
How To Prepare?
Bring 2 cups of Spring water to a boil
Turn heat to low
Scoop ONE teaspoon of tea into the pot or our

 

heat-sealable teabag
Cover the pot
Steep for 10-15 minutes
ENJOY! (Strain if you didn't use a teabag)



This information has not been evaluated by the Food and Drug Administration. This product is not intended to diagnose, treat, cure, or prevent any disease. We do not claim to have a cure for any disease. The information on this website is opinion based and for informational purposes only. Consult with a licensed healthcare professional before use.
Excited to try and receive the benefits
As I just received my order last night, I have not yet tried the Stay Healthy Tea. However if it is as much a "blessing" to the body as the Immunity Tea , I will definitely be giving it a 5 Star Rating!!!!
The Immunity Tea has done Everything stated/shared! Praise GOD for these wonderful herbs that HE created and Praise HIM for You Pedestra. Your Husband and All at the Cerebal Tea Company for researchinhg and selecting, putting together the best possible herbs and blends at an affordable price!!!
Thank You for ALL YOU DO!!!!
Stay TRUE!!!!!
Peace,Blessings and Love!
Great tea
I feel fine, I use it once a day. I do not catch colds but I use it anyway.
Wellness tea
I haven't had a chance to try the tea yet. I thought I had ordered the anxiety tea but received the wellness tea, I'll try it anyway maybe it'll help