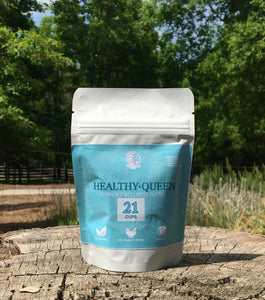 The Original 'Healthy-Queen' Tea Blend

This blend was specially formulated for the ladies! Experience results FAST drinking just one cup every other day! Our 'Healthy-Queen' blend contains 4 all natural, alkaline herbs that bring a host of benefits including:
Regulates hormonal balance
Relieves menopause symptoms
Relieves PMS symptoms
Shorter, lighter periods
Increased libido
Soothes nervous system
Helps w/ fibroids
& More!
What's Inside?
Hydrangea
Damiana
Red Clover
Raspberry leaf 
How To Prepare?
Bring 2 cups of Spring water to a boil
Turn heat to low
Scoop ONE teaspoon of tea into the pot or our

 

heat-sealable teabag
Cover the pot
Steep for 10-15 minutes
ENJOY! (Strain if you didn't use a teabag)

 This information has not been evaluated by the Food and Drug Administration. This product is not intended to diagnose, treat, cure, or prevent any disease. We do not claim to have a cure for any disease. The information on this website is opinion based and for informational purposes only. Consult with a licensed healthcare professional before use.
Amazing product and customer service!
This tea really works! My cramps are pretty normal (I stopped using ibuprofen a few years ago, and now I use a heating pad and a spice blend of turmeric and other anti-inflammatory spices in my coffee or tea), but since drinking this tea I've had no cramps at all. It is pretty amazing. The taste is not bad at all, but isn't exactly exciting either, so I add honey and lemon juice to give it some sweetness and flavor. They made a mistake on my original order, and it took a couple weeks for a response, but once they did, they really went above and beyond to make things right! I have already recommended this tea and this wellness company in general to my family and friends.
Healthy-Queen Tea - 14 Day Supply
Works great
I have tried a few of the teas and they do work. This tea has helped with mood and anxiety during that time of the month.
Queen-T
I love the tea. Not trying to be graphic, but my libido is higher and Angela is getting her groove back her husband lol
Healthy Queen Tea
I absolutely love this tea ! This is my second time drinking it on my cycle and I have had less moodiness and symptoms and also shorter and lighter period ! And I loveeee the taste. Definitely will buy again !