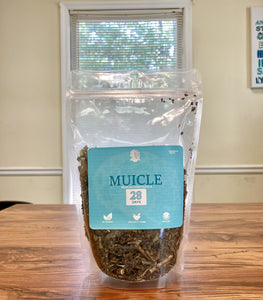 Muicle - Mexican Honeysuckle - 4oz
Muicle, also known as Mexican Honeysuckle is a hidden gem found in the vast fields of Mexico, celebrated for its vibrant green leaves and enchanting honeysuckle-like fragrance. This plant has been a cornerstone of traditional Mexican herbal remedies, used by indigenous communities for centuries. Now, we bring this secret of wellness directly to you!
Muicle is great for a number of issues including:
Stress/Anxiety
High Blood Pressure
Headaches
Diabetes
Gut health
Coughs
Immune support
AND MORE!
Our Muicle is carefully harvested and meticulously dried to retain its natural vitality. The result is a herb with a unique flavor profile that not only makes it an enjoyable tea but also lets you tap into its potential health benefits. When brewed, it yields a soothing, aromatic tea that is perfect for relaxation after a long day or as a calming start to your morning.
Aside from its potential health benefits, Muicle makes a beautiful purple color when steeped and provides a delicious taste that can be enjoyed hot or as an "iced" tea. 

HOW TO PREPARE?
Bring 2 cups of Spring water to a boil
Turn heat to low
Scoop ONE tbsp of tea into the pot or our

 

heat-sealable teabag
Cover the pot
Steep for 15 minutes
ENJOY! (Strain if you didn't use a teabag)
 This information has not been evaluated by the Food and Drug Administration. This product is not intended to diagnose, treat, cure, or prevent any disease. We do not claim to have a cure for any disease. The information on this website is opinion based and for informational purposes only. Consult with a licensed healthcare professional before use.
Muicle - Mexican Honeysuckle