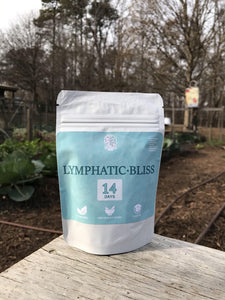 Lymphatic Bliss Tea

Keeping the Lymphatic System clean from toxins is imperative to maintaining optimal health and preventing dis-ease. A clean lymphatic system helps strengthen the immune system and eliminate swelling/inflammation and make the body FEEL ALIVE!
This blend of 6 highly alkaline herbs works on an intracellular level, cleaning the cells from the inside out while removing excess fluid and toxic waste from the lymphatic system. Help strengthen the body's natural self-healing abilities by supporting your lymph system with the best herbs mother nature has to offer!
The herbal blend includes:
Yarrow
Cleavers
Nettle
Red Clover
Hydrangea
Feverfew
How To Prepare?
Bring 2 cups of Spring water to a boil
Turn heat to low
Scoop ONE teaspoon of tea into the pot or our

 

heat-sealable teabag
Cover the pot
Steep for 10-15 minutes
ENJOY! (Strain if you didn't use a teabag)
*Not recommended for use if pregnant/breastfeeding.

 This information has not been evaluated by the Food and Drug Administration. This product is not intended to diagnose, treat, cure, or prevent any disease. We do not claim to have a cure for any disease. The information on this website is opinion based and for informational purposes only. Consult with a licensed healthcare professional before use.