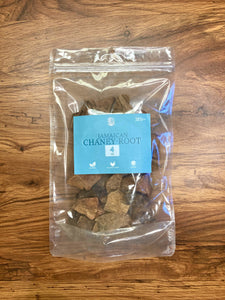 Jamaican Chaney Root
Our Jamaican Chaney Root (Smilax Balbisiana) is wildcrafted and imported directly from the hills of Jamaica! This powerhouse herb is well-known for a number of incredible benefits.
The most notable use of this "Superherb" is for its high content of iron as it is used to cleanse the blood and provide the brain and body with large amounts of oxygen. 
Health Benefits of Jamaican Chaney Root:

Treats anemia
Skin conditions (acne, psoriasis, rashes, etc)
Natural energy source
Potent solution for impotency
Boosts sex drive
Arthritis
Backpain 
Boosts Immune System
HOW TO PREPARE?
Soak 1oz or 1 chunk of Jamaican Chaney Root overnight.
Bring 2 cups of Spring water to a boil.
Throw your root in the pot.
Cover the pot.
Steep for 20 minutes.
Re-use the same root 2 to 3 times.
This information has not been evaluated by the Food and Drug Administration. This product is not intended to diagnose, treat, cure, or prevent any disease. We do not claim to have a cure for any disease. The information on this website is opinion based and for informational purposes only. Consult with a licensed healthcare professional before use.
Awesome product
Quality product fast delivery
Super Herb
This product has helped with my dry skin and is a natural energy booster... As for men, you should try this product because it does help with impotency and sex drive... After using the product for a couple of days you will notice the effects of positive male boost as well as increase in the immune system... The products work naturally so as you pay attention to your affected areas you will definitely see progress.... But be consistent...