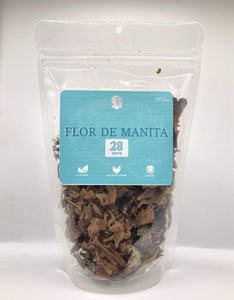 Flor de Manita - 3oz

Flor de Manita, a powerful heart healthy herbs staight from the lands of Mexico, stands as one of the most beloved herbs in the country. Mostly famous for it's positive healing for the heart, it actually offers a wide range of benefits!


Flor de Manita offers many benefits, including:

Heart Health Elixir: At the core of Flor de Manita lies its remarkable ability to support cardiovascular wellness. Say goodbye to heart palpitations and many other heart issues using this singular gift from nature.
High blood pressure: Flor de Manita is an excellent choice for naturally regulating blood pressure levels to a state of homeostasis. 
Stress & Anxiety: Flor de Manita is also known for its calming and soothing properties, calming the nervous system and providing a calm sense of peace.
Immune Booster: Embrace Flor de Manita's potential to bolster your body's defenses, safeguarding you against the challenges of everyday life.
Digestive Support: Discover the harmonious connection between the heart and gut as Flor de Manita lends its gentle touch to support digestive health.

HOW TO PREPARE?
Bring 2 cups of Spring water to a boil
Turn heat to low
Scoop ONE tbsp of tea into the pot or our

 

heat-sealable teabag
Cover the pot
Steep for 10 minutes
ENJOY! (Strain if you didn't use a teabag)
 This information has not been evaluated by the Food and Drug Administration. This product is not intended to diagnose, treat, cure, or prevent any disease. We do not claim to have a cure for any disease. The information on this website is opinion based and for informational purposes only. Consult with a licensed healthcare professional before use.