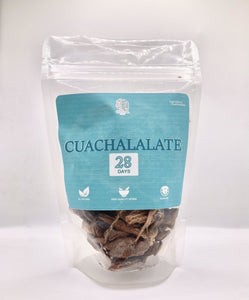 Cuachalalate - 3oz
Cuachalalate, a very powerful herb deeply rooted in Mexico's rich botanical heritage, is now available to help heal the gut and more! Revered for centuries by indigenous communities, this hidden gem offers a host of health benefits.
Our Cuachalalate is 100% wildcrafted, harvested straight from Mexico and delicately dried to preserve its inherent vitality, ensuring you receive the finest quality nature has to offer. 


Cuachalalate offers many benefits, including:

Healthy gut: Cuachalalate has been a cornerstone of traditional Mexican herbal remedies for its gentle support in maintaining gut health. Great for colitis, inflammation in the gut, leaky gut and more!
Stress Relief: In today's fast-paced world, finding peace amidst the chaos is essential. Cuachalalate comes to the rescue with its calming nature, helping you weaken stress and anxiety. 
Natural Immunity Boost: Strengthen your body's defenses with the natural immune support provided by Cuachalalate. Embrace its age-old wisdom to safeguard your well-being.
Headache Relief: Say goodbye to pesky headaches as Cuachalalate helps relieve tension and migraine headaches. 
HOW TO PREPARE?
Bring 2 cups of Spring water to a boil
Turn heat to low
Scoop ONE tbsp of tea into the pot or our

 

heat-sealable teabag
Cover the pot
Steep for 10 minutes
ENJOY! (Strain if you didn't use a teabag)
 This information has not been evaluated by the Food and Drug Administration. This product is not intended to diagnose, treat, cure, or prevent any disease. We do not claim to have a cure for any disease. The information on this website is opinion based and for informational purposes only. Consult with a licensed healthcare professional before use.