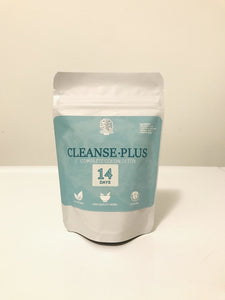 Cleanse Plus 

Complete a 7 Day Detox with our Cleanse Plus blend, which features a collection of highly alkaline herbs used for thousands of years to completely cleanse the system at the cellular level! Cleanse Plus will detox the colon and intestines, removing years worth of built-up toxins, mucus, calcifications and waste matter that contributes to the survival of dis-ease. This blend is very bitter, be prepared to tough it out for the good of your health and don't allow the taste to rob you of your healing.
What's Inside?
Cascara Sagrada
Rhubarb Root
Ginger Root
Fennel
How To Prepare?
Bring 2 cups of Spring water to a boil
Turn heat to low
Scoop ONE teaspoon of tea into the pot or our

 

heat-sealable teabag
Cover the pot
Steep for 20 minutes
Strain
ENJOY ONCE PER NIGHT FOR 7 NIGHTS IN A ROW! 
Do not
take if you are pregnant/breastfeeding. Consult with doctor before use if on medication.

 This information has not been evaluated by the Food and Drug Administration. This product is not intended to diagnose, treat, cure, or prevent any disease. We do not claim to have a cure for any disease. The information on this website is opinion based and for informational purposes only. Consult with a licensed healthcare professional before use.
Clears u out!
So im almost finished with the bag, im not gonna give 4 starts like other ppl do just bc of the taste cause its all about the benefits 🤣 so when i first started drinking this tea i would only have one bowel movement a day and now i usually have three bowel movements a day! Even with days without drinking the tea.This tea is very good its regulated my bowels and helps keep them healthy(as long as u have a healthy diet) this tea is very very effective, it works very fast i can drink it at night and in the morning i immediately have a bowel movement. And whenever i get bloated i drink this tea and boom the bloated stomach is gone. If u have trouble drinking this just chug it down really fast eventually u will get used to the taste
Amazing product
Tea worked on the very first day i drank it, i felt so good since day one, no pain, no bloating. I usually have stomach pain due to certain health issues but those feelings have gone and my stomach feels great!
Cleanse
Let me start with the anxiety tea I started with a sample, then I order four 28 days listen the tea have helped me so much!!! I was in a car accident in 2017 that broken my ribs my ankle and I have very bad back pains o let me not for my headache that come no less than three times a day. So I been feeling my body with pain pills trying to work my way off of them my body hurts, I can't sleep, and my anxiety is threw the roof. I can't stand to drive I shake alot and I hate being around large groups of people. At 33 years young life just isn't pose to be this depressing! So with lots of prayer and coming across your tea on ig it's change my life I drink that anxiety tea daily IT GETS ME THREW MY DAY. Two cups a day mix with honey and lemon im good to go. But this cleanse tea I want to detox my body so bad but I can't drink this tea it taste so nasty I have tried everything I can't drink a whole cup. After two sips im down! If anyone has a way to drink please let us know! Lastly to say you two are angels on earth thanks
Cleanse Plus - 14 Day Supply
Im just keeping it real 😅 and giving tips on how to drink this loll
This had to be the most terrible thing I've tasted 😭😭😭😂 I had to hold my breath and figure out how to drink this thing. The first time i nearly threw up and had to use mouth wash immediately after struggling to drink this ( I could also be dramatic 😂). I put honey and let it cool down so I could drink it with a straw. I noticed using a straw helped tremendously as my tongue absorbed less of the tea and using mouth wash afterwards so the taste didn't linger. It's beyond bitter but I was determined to detox my body. I have one more day to drink the tea and I could say that I have been less bloated and my bowel movements are way more frequent 🙌🏽 I can def feel the tea working. If you're determined and focused to improve your health and cleanse yourself it's worth it. If you're still eating terribly and not doing your part don't expect a miracle. But it's definitely worth it if you're taking those necessary steps to heal and take care of your body.