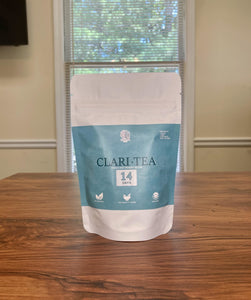 Clari-Tea: Focus & Memory Blend

Our Clari-Tea blend was formulated to provide the brain with high amounts of oxygen, improve memory, clear brain fog, silence over-thinking and much more! This highly alkaline blend includes 4 herbs that have been scientifically proven to increase brain health. 
ANAMU is a chlorophyll-rich plant that carries endless benefits for the entire body including improving immune system function, improve mental performance and long-term memory, reducing inflammation in the brain and throughout the entire body, calming the nervous system and relieving Anxiety and much more!
CT

This herbal blend includes: 
Anamu
Sage
Elderberry
Blue Vervain
HOW TO PREPARE?
Bring 2 cups of Spring water to a boil
Turn heat to low
Scoop ONE teaspoon of tea into the pot or our

 

heat-sealable teabag
Cover the pot
Steep for 10-15 minutes
ENJOY! (Strain if you didn't use a teabag)
*Not recommended for use if pregnant/breastfeeding.

This information has not been evaluated by the Food and Drug Administration. This product is not intended to diagnose, treat, cure, or prevent any disease. We do not claim to have a cure for any disease. The information on this website is opinion based and for informational purposes only. Consult with a licensed healthcare professional before use.
Clari tea
Clari tea keep me clam and focus it's a well relaxing tea
Work wonders
I had anxiety for years this year I started to get depress along with intrusive thoughts. I ran across this tea and reviewed the different reviews of the different teas. I saw a review on Facebook from the owner stating Clari-tea will help for depression and Intrusive thoughts. I ordered and since taking the Clari-tea my mind is calm my thoughts are calm. I will be ordering again. Thank you! Thank you!
OMG ! The best
I just want to say this i've only drank one cup since i got it this week and i am already like shocked how my overthinking by one cup already has improved i am an ultimate overthinker and i hate it i love when my mind is quite and i think i found what is going to relief it and is this amazing tea , can u guys make a 28 day bag please 🙏🏻
Please make a 28 day bag
I'm a bartender and this helps me so much on the job omg I wish I would've tried it earlier. Please make a 28 day bag