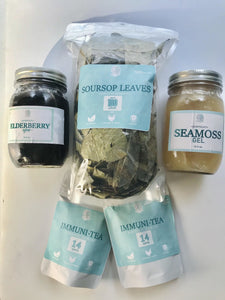 Bulletproof Immunity - Total Package
Looking for bulletproof protection for your entire family's immune system? Are you worried about getting sick? Ease your concerns by consuming nature's safest and most effective herbs designed to build your immune system.
Make it impossible for viruses to attach to host cells. Getting sick will quickly become a thing of the past with our Bulletproof Immunity package. Featuring the most powerful anti-viral herbs on earth.
The products in this package are:
16 oz Seamoss Gel
16 oz Elderberry Syrup
Immuni-Tea(28 Day Supply)
Soursop Leaves
Safe for all ages, consistent use of the herbs in this package will protect and charge immune system while protecting cells from damage. 

 This information has not been evaluated by the Food and Drug Administration. This product is not intended to diagnose, treat, cure, or prevent any disease. We do not claim to have a cure for any disease. The information on this website is opinion based and for informational purposes only. Consult with a licensed healthcare professional before use.
Grateful and feeling Good!
I found the package amazing and healing. Most of it new to me. During the pandemic my business had to close and I developed a rash on arms and legs. I had it for two years. I finally feel my body has shifted using all of the products, I listened to their free presentation, applied what they said to do, it's been a few months, but my rash is gone and My anxiety is so much better. I feel calmer and I am so grateful. I knew I needed a big shift but did not know what to do, Thank you so much Cerebra Teas❤️