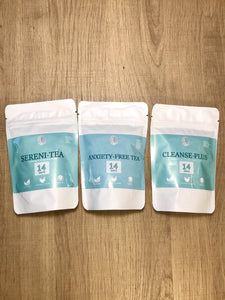 Anxiety-Free - Small Therapeutic Package
Our Anxiety-Free Small Therapeutic Package has the most essential herbal tea blends you need to
help the body
eliminate Anxiety Disorder. Receive healing in the most efficient, effective manner by following the included blueprint to success!
Items included in this package:
Anxiety-Free Tea: 14 Day Supply
Cleanse Plus:

 

14 Day Supply 
Sereni-Tea:

 

14 Day Supply
Our Anxiety-Free Tea is designed to cleanse and nourish the nervous system while Cleanse Plus detoxifies the body at the cellular level, including the gut and colon. Sereni-Tea nourishes the brain and nerves, providing a calming and relaxing feeling.


 This information has not been evaluated by the Food and Drug Administration. This product is not intended to diagnose, treat, cure, or prevent any disease. We do not claim to have a cure for any disease. The information on this website is opinion based and for informational purposes only. Consult with a licensed healthcare professional before use.
A great way to start the healing journey
Since I've started drinking this tea I have been feeling a lot better. I get better sleep, I don't feel as anxious or depressed anymore. My mind feels more stable, my mental chatter has calmed down. My body doesn't shake as much when I feel nervous. My breathing is more stable and my mood is more stable. Thanks to this tea I have less social anxiety. Since my mind is more clear, I worry less, my body is less tense and I have less fear of judgment. I thank God I saw your company on Instagram. Which lead me to watch your episode with the living blessed podcast on YouTube. Thank you Pedestra and Aaron for your tea and military service. I look forward to trying your other products.
It Works!!
I am so glad I purchased this tea! I had been dealing with anxiety for the past 8 months. I had so many symptoms dizziness, light headed, heart palpitations, negative thoughts, and so many more. I can honestly say, I finally feel like myself again! I recommend the tea 100%.
amazing product
When I say i am for ever customer ! i mean it by far a product that is worth every penny. Taking different tonics and teas in the past doesnt compare to the benefits and instant results that come with drinking this tea.