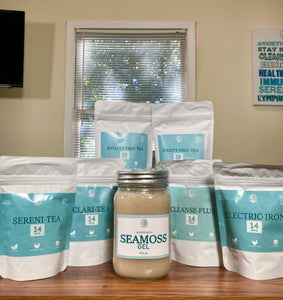 Anxiety-Free - Complete Therapeutic Package
Ready to go all in? Our Anxiety-Free Complete Therapeutic Package has everything you need to help the body eliminate Anxiety Disorder. Receive healing in the most efficient, effective manner by following the included blueprint to success!
Items included in this package:
Seamoss Gel:

 

16oz jar
Anxiety-Free Tea: 2 Month Supply
Clari-Tea: 14 Day Supply
Cleanse Plus: 14 Day Supply
Electric Iron: 14 Day Supply
Sereni-Tea: 14 Day Supply
Taking the products in this package as instructed will speed up and solidify the healing process by completely cleansing the blood, gut and colon of harmful toxins, then nourishing the cells with the proper minerals needed to eradicate the condition of Anxiety in the body.
All of the products in this package are safe to take together, on the same day. We recommend starting your day with 2 tbsp of Seamoss Gel and a cup of Anxiety-Free Tea. During the day, you can drink Electric Iron and Clari-Tea. Drink a cup of Cleanse Plus in the evening for 7 days and a cup of Sereni-Tea before bed, every night. 

*This package is not recommend during pregnancy.
 
 This information has not been evaluated by the Food and Drug Administration. This product is not intended to diagnose, treat, cure, or prevent any disease. We do not claim to have a cure for any disease. The information on this website is opinion based and for informational purposes only. Consult with a licensed healthcare professional before use.
Thanks so much for the tea am feeling much better I see results from it am not a social media person I don't have instagram I see on my daughter facebook you can contact me by email thanks again
Thank God I saw this Ad
I've been drinking these teas for seven weeks. I wanted to make sure that they were the real deal before I reviewed. LOL At the height of my anxiety I ordered this tea. My anxiety had me in bed for weeks. Unable to make decisions or commit to anything. I was experiencing symptoms like brain fog, bad mood, derealization, spasms. I had no experience with anxiety other than the everyday anxiety most of us experienced so I was extremely scared. As soon as I began to drink these teas I started to have my symptoms subside. After a week I was feeling significantly more relaxed. Cerebral teas made me feel comfortable to face my anxiety, they are relatable and informative. I love that the teas are natural remedies and I had no negative side effects. It didn't taste the best at first but I would do anything for recovery. A little over a month in, I am now drinking to maintain the positive feelings it gives me. Thank you guys for not keeping these products to yourself and making them affordable. You know a product is good when you can't stop telling people about it.
True believer
I've had anxiety for quite some time now. It worsened when covid hit along with working from home. I use to experience everything related to anxiety, literally EVERYTHING, from trembles, fast heart rate, brain frog,weird body sensations, insomnia, high blood pressure, the feeling of passing out,it was terrible!!! I was in and out of the hospital every other month thinking I was dying! The second day I drank this tea, I got on my knees and showed gratitude to the most high for sending this tea my way! I felt instant relief ! I honestly got scared when I felt normal again. I love the tea!!! I drank one cup everyday sometimes two when I feel anxious. This tea is truly a life saver and I thank you both for doing the necessary research to help people like myself with overcoming this!
The best product
This is a great product. I love it. I no longer take any anxiety medications. Thank you!!!
Life Saving!
I'm currently going through a unexpected separation and pending divorce from my husband. And this has brought on enormous amounts of stress and anxiety. This tea has been a life saver! There was days when I couldn't even get out of the bed because of the stress. But after drinking this tea… my days have been so much better!!