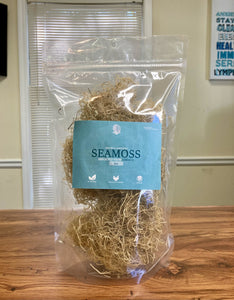 100% Raw, Wildcrafted Jamaican Seamoss - 2oz
Our Seamoss is wild-harvested from the coast of Jamaica and imported directly to our headquarters in Atlanta. Seamoss is a powerful superfood providing a whopping 92 out of the 102 minerals our bodies need to thrive. Other than being one of the best foods to replenish essential minerals, Seamoss is also popular for dissolving mucus from the system and boosting the overall immune system to protect against colds, flu's, and viruses. 
100% Raw, Sun-Dried Jamaican Seamoss (Gracilaria) - MAKE YOUR OWN SEAMOSS GEL!
Makes at least 32oz - 64oz of Seamoss Gel!

Seamoss is a nutritional powerhouse that provides ALL of the essential minerals you need to maintain a condition where Anxiety struggles to survive.

The large amounts of Iron, Magnesium and Potassium soothe your nervous system and helps increase the circulation of oxygen in your blood. 
We always source high quality wildcrafted gracilaria Seamoss, never pool-grown. 
HOW TO MAKE SEAMOSS GEL
Clean Seamoss thoroughly. Rinse 2 - 3 times and remove all rocks, seashells and other sea debris. 
Put Seamoss in a pot, leveled with Spring Water.
Cook Seamoss on LOW for 1 hour. 
Blend Seamoss in a high-powered blender with the water from the pot. 
Shoot for a thin but not watery consistency. The Seamoss will thicken in the refrigerator. 
 This information has not been evaluated by the Food and Drug Administration. This product is not intended to diagnose, treat, cure, or prevent any disease. We do not claim to have a cure for any disease. The information on this website is opinion based and for informational purposes only. Consult with a licensed healthcare professional before use.
Real deal
Real authentic off the rocks sea moss! While washing my moss I found tiny pieces of coral/rock stuck to the moss so I know it's the real deal, super thin like Dr. Sebi told us to look for! After 1 week I began to see my digestion improve and have felt with more energy! Also my has improved lower back aches.. Absolutely life changing.
100% wildcrafted!! 🥰
If you know, you know 😉 100% quality and hey GREAT Speech today by the way! 💪💪05/28/23
Sea moss
Very soft.I rinsed it then poured boiling water into stainless steel bowl covered it for a few hours then blended it. Other brands of sea moss I've ordered was very hard and dirty.