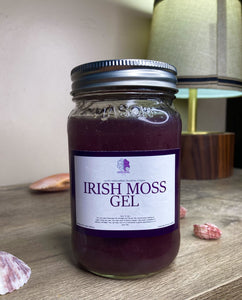 100% Wildcrafted Irish Moss Gel
Our Irish Moss Gel is made fresh to order using 100% real, wildcrafted Irish Moss aka Chondrus Crispus, foraged off the coast of New England! Chondrus Crispus provides the complete 92 of 102 minerals the body needs to thrive, making it nature's #1 all-natural multi-vitamin. 
Irish Moss Gel (Chondrus Crispus) may provide many benefits, including:
Immune support/Antiviral
Strengthening joints/bones

Thyroid support
Improve gut health
Nourish nervous system
And much more!
We always use 100% REAL, wildcrafted Seamoss, never pool-grown or farm-raised! We take proper precautions to ensure your jar arrives fresh and ready to consume for the best benefits.
Made fresh to order.
Ships frozen to ensure fresh arrival.
Orders ship Monday thru Wednesday ONLY to ensure fresh arrival in 2 business days. Consume within 3 weeks. *Gel color may vary
This information has not been evaluated by the Food and Drug Administration. This product is not intended to diagnose, treat, cure, or prevent any disease. We do not claim to have a cure for any disease. The information on this website is opinion based and for informational purposes only. Consult with a licensed healthcare professional before use.
Wildcrafted Irish Moss Gel
I Love My Sea Moss Feel With So Much Energy…DEFINITELY Will B Ordering Again Great Product 👍🏽