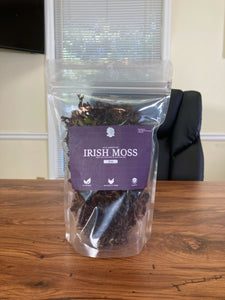 100% Raw, Wildcrafted Irish Moss (Chondrus Crispus)
Chondrus crispus aka Irish moss, is a type of seaweed that grows naturally in the Atlantic coastal regions of Europe and North America. Known to some as the "King of Seamoss", this superfood contains 92 out of 102 minerals the body needs to thrive. Irish Moss offers a ton of benefits, including:
Multi-mineral: Irish moss is a great source of minerals like iodine, potassium, calcium, and magnesium and more. It's the most nutrient dense vegetable on the earth - nature's true multivitamin!

Supports thyroid function: Irish moss is a rich source of iodine which is essential for maintaining a healthy thyroid function.

Anti-inflammatory properties: Irish moss contains compounds that have anti-inflammatory properties, making it useful for reducing inflammation in the body.

Supports gut health: Irish moss is rich in prebiotics, which are beneficial for maintaining gut health and can support the growth of good bacteria in the gut.

Good for skin and hair: Irish moss is known to be a great source of vitamin A, which is essential for maintaining healthy skin and hair. You can use it directly on the skin to help with skin conditions such as eczema and psoriasis.
We always source high quality wildcrafted Chondrus Crispus, never pool-grown. 
HOW TO MAKE SEAMOSS GEL W/ CHONDRUS CRISPUS
Clean Seamoss thoroughly. Rinse 2 - 3 times and remove all rocks, seashells and other sea debris. 
Soak for 24 hours in Spring water.
Put Seamoss in a pot, leveled with Spring Water.
Cook Seamoss on LOW for 1 hour.
Blend Seamoss in a high-powered blender with the water from the pot. 
Shoot for a thin but not watery consistency. The Seamoss will thicken in the refrigerator. 
 This information has not been evaluated by the Food and Drug Administration. This product is not intended to diagnose, treat, cure, or prevent any disease. We do not claim to have a cure for any disease. The information on this website is opinion based and for informational purposes only. Consult with a licensed healthcare professional before use.
Chondrus Crispus (Irish) Sea Moss
I was able to make FOUR 16 oz. mason jars of Seamoss gel from one pack of Irish Seamoss. I add it to my green tea every morning and it taste great. Thanks for this awesome product!