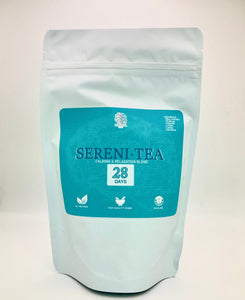 SERENI-TEA: CALMING & RELAXATION BLEND

Our Sereni-Tea: Calming & Relaxation blend contains 6 all-natural, alkaline herbs perfectly formulated to calm the nervous system, providing a wave of calm and peaceful feelings throughout the body. 
Helps at the core to address issues such as: Insomnia, Anxiety, Depression, Moodiness, Nervousness, Muscle Tension, Headaches, Digestive issues and more!
Our Sereni-Tea: Calming & Relaxation blend includes:
Blue Vervain

Valerian root

Linden flower

Catnip

Damiana

Skullcap
HOW TO PREPARE?
Bring 2 cups of Spring water to a boil
Turn heat to low
Scoop ONE teaspoon of tea into the pot or our

 

heat-sealable teabag
Cover the pot
Steep for 15 minutes
ENJOY! (Strain if you didn't use a teabag)

 This information has not been evaluated by the Food and Drug Administration. This product is not intended to diagnose, treat, cure, or prevent any disease. We do not claim to have a cure for any disease. The information on this website is opinion based and for informational purposes only. Consult with a licensed healthcare professional before use.