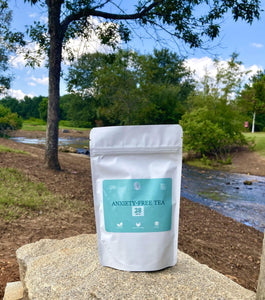 The Original Anxiety-Free Tea

This 100% Alkaline Herbal Tea blend was formulated to work at the root issues behind Anxiety Disorder and provide fast and long-term relief from even the most debilitating physical and mental symptoms. 
ZERO

 

caffeine. 100% Natural. 100% Organic. 
Feel REAL results as soon as the first day!

 

*Many customers report immediate results such as

 

improved breathing, feeling calm, reduced palpitations, better sleep and overall weaker symptoms.
Questions?

 

Start a

 

LIVE CHAT

 

at the bottom right corner or email us at

 

support@cerebralteas.com. 
What's inside?
Our original Anxiety-Free Tea is a result of tireless research to find the perfect blend of herbs scientifically proven to target the root cause of Anxiety disorder. Our herbal blend comes fresh, in LOOSE form and includes:  
Blue Vervain(Verbana hastata) 
Elderberry(Sambucus Nigra)
Burdock root(Actium lappa)
Fennel seeds(Foeniculum vulgare) 
Sarsaparilla root(Smilax medica

)

Feverfew(Tanacetum parthenium) 
Dandelion Root(

Taraxacum)

How To Prepare?
Bring 2 cups of Spring water to a boil
Turn heat to low
Scoop ONE teaspoon of tea into the pot or our

 

heat-sealable teabag
Cover the pot
Steep for 20 minutes
ENJOY! (Strain if you didn't use a teabag)
 This information has not been evaluated by the Food and Drug Administration. This product is not intended to diagnose, treat, cure, or prevent any disease. We do not claim to have a cure for any disease. The information on this website is opinion based and for informational purposes only. Consult with a licensed healthcare professional before use.
Not recommended during pregnancy/breastfeeding. See our Pregnancy safe blend here.
Life-changing
I've been drinking this tea for about a year. When I started struggling with anxiety and panic attacks, I tried many natural tactics to manage. But this tea was pivotal in my progress and the heavy lifter in managing it for me. After a few weeks on the tea I stopped having panic attacks and have not had another since. I love the taste and look forward to it every evening. If you're on the fence, I encourage you to get it. Give yourself some time on it and feel the difference.
I purposely waited a couple of months before I left this review. I wanted to know if this was the real deal. I was dealing with major anxiety , panic and depression since September. It started after I got sick for the first time ever with Cvd. I've always been a worrier when it comes to my health, but after I got sick I really spiraled. I thought I was going to Day like every other day. I didn't feel connected to reality, I had random panic attacks out of nowhere, cried for no reason. It was one of the toughest seasons of my life. I had gotten lexapro and Xanax filled because I just couldn't handle it anymore. I felt like I wanted to jump out of my own body every single day. There was always a voice in my spirit though that didn't allow me to take the meds. I needed to emerge out of this darkness on my own. I remember praying to God and asking for an alternative. There were just too many side effects I wasn't willing to experience just to "maybe" feel good. I kid you not, the next day I came across this company as I scrolled through IG. All the reviews seemed too good to be true but I bought it anyway and decided to give it a chance. I started in January. At first I did 2 servings a day because I really felt like I needed it. I did not miss a day. It was like clock work. Eventually I went down to 1 serving a day, then 1 serving every few days. Here we are in June and I just realized that it's been a little over a week without the tea. Crying tears of JOY now!! Here are some other things I did that helped along my journey. I went to therapy. Man has that helped! I've also cleaned up my diet, started working out more, journaled, and number one…Prayer! God heard my prayers let me tell you. This tea has been a tool for me and if you're at rock bottom like I was, just go for it! Stay consistent.
Instagram:
@Rock_bottomfitness
It WORKS!
My brother died recently. It sent me spiraling. Panic attacks daily, couldn't stop sweating, hyperventilating, pacing, mind a mess. I changed my meds, still, the anxiety was there. My cousin recommended this to me. I was super hesitant, but tried it. Been drinking two cups a day for a few weeks now. The anxiety is not totally gone, but it has been such a huge boon. The anxiety is there, but no full blown panic. I think with more time and this tea, I'll be back to my old self. Thank you for helping tame some of these awfully turbulent waters.
I cannot thank you enough !!
I tried this tea three days ago and it transformed me instantly. I owe it to Hailee and Kendra for promoting this on their Instagram and for it finding its way to me. I struggled with anxiety and depression and took medication, but I found it didn't fully help. But this tea made the world of difference for me. Thank you, I will be purchasing more in the future.
Did What it Said it Was Going to Do
This tea was recommended by my therapist and she did not disappoint with this one. While the tea does not taste very good, it did what it was supposed to do. Definitely less anxiety and worry. I drunk it in its natural state so I didn't add anything to it and drunk it twice a day and I honestly felt a difference mentally. It sure beats taking antidepressants. I would say it didn't last me the 28 days because my servings were definitely all off so I will be ordering more. Thank You Cerebral!