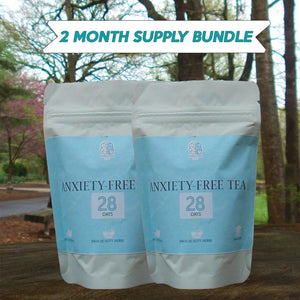 The Original Anxiety-Free Tea

This 100% Alkaline Herbal Tea blend was formulated to work at the root issues behind Anxiety Disorder and provide fast and long-term relief from even the most debilitating physical and mental symptoms. 
ZERO

 

caffeine. 100% Natural. 100% Organic. 
Feel REAL results as soon as the first day!

 

*Many customers report immediate results such as

 

improved breathing, feeling calm, reduced palpitations, better sleep and overall weaker symptoms.
Questions?

 

Start a

 

LIVE CHAT

 

at the bottom right corner or email us at

 

support@cerebralteas.com. 
What's inside?
Our original Anxiety-Free Tea is a result of tireless research to find the perfect blend of herbs scientifically proven to target the root cause of Anxiety disorder. Our herbal blend comes fresh, in LOOSE form and includes:  
Blue Vervain(Verbana hastata) 
Elderberry(Sambucus Nigra)
Burdock root(Actium lappa)
Fennel seeds(Foeniculum vulgare) 
Sarsaparilla root(Smilax medica

)

Feverfew(Tanacetum parthenium) 
Dandelion Root(

Taraxacum)

How To Prepare?
Bring 2 cups of Spring water to a boil
Turn heat to low
Scoop ONE teaspoon of tea into the pot or our

 

heat-sealable teabag
Cover the pot
Steep for 20 minutes
ENJOY! (Strain if you didn't use a teabag)
 This information has not been evaluated by the Food and Drug Administration. This product is not intended to diagnose, treat, cure, or prevent any disease. We do not claim to have a cure for any disease. The information on this website is opinion based and for informational purposes only. Consult with a licensed healthcare professional before use.
Not recommended during pregnancy/breastfeeding. See our Pregnancy safe blend here.
Feels like it is helping
I have been taking it about 2 weeks now. I TRY to drink it twice a day but usually it is just in the mornings. I feel a bit calmer. I will continue to use it. I want to try the other tea also that calms your anxious thoughts. Thanks.
Amazing how much it has helped me
I couldn't believe that a tea could help me so much. I have been struggling with PTSD and General Anxiety Disorder for the last three years. I especially have been struggling with driving anxiety. I have been drinking this tea for the last 6 months and it has significantly aided in decreasing my driving anxiety and anxiety in general. I am on medication but I was on medication a while before starting drinking the tea and the tea has been the major difference in my improvement. I even recommended it to my therapist so she could recommend to others who are suffering from debilitating anxiety disorders. I'm very grateful for the change this product has brought to my life. I have no reason to write any of this other than it has been my true experience.
Very helpful
Anxiety free tea it very good the first 2 weeks drinking it I see results still having a little anxiety but am feeling much better…thanks to the company
Free anxiety tea
This tea has helped a lot with my anxiety and panick attack, I feel much happier, I can breathe better and have positive view of my self.
Anxiety Free Tea works amazingly but the customer service is lacking
I ordered my first batch of teas and it was sent back ive reached out numerous times and I still haven't been contacted. So I bought another batch it works AMAZINGLY but as a loyal customer I would like to feel appreciated.