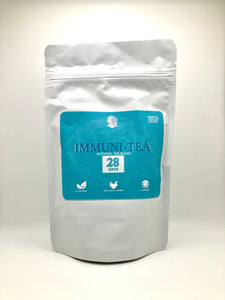 Immuni-tea Antiviral Tea

Supercharge your immune system with our Immuni-tea Antiviral Tea blend! High in
Vitamin C, Zinc, Iron, Calcium
, and more, the all-natural, alkaline herbs used in our Antiviral Tea are proven to provide bulletproof
protection against colds, flus, and other viral infections
. 
Each herb in this blend does it's job to cleanse the blood, remove mucus from your system, protect your respiratory system, and much more. 
Let's take a look at the simple ingredients, made by nature that will give you the immunity protection you need:
What's In It?
Elderberry
Nettle leaf
Mullein leaf
A Closer Look
Elderberry
Used as far back as 400 BC by "the father of Medicine" Hippocrates, he called this natural berry his "Medicine Chest" due to it's enormous amount of benefits. Among those benefits, 
Elderberry is one of, if not, the most powerful herb on the planet to cleanse your body of mucus and protect your immune system due to the extremely high amount of antioxidants and essential minerals that help the body fight off intruders.
(source)
Nettle
Nettle, also known as Stinging Nettle is known as a powerful anti-inflammatory but it also has been proven to show an anti-viral effect just as powerful! In fact, studies have shown antiviral action against HIV, Cytomegalovirus, Rotavirus and yes, even Coronavirus.
(source)
Mullein
Mullein is famous in the all-natural healing community in the category of powerful herbs for soothing coughs and dissolving mucus from the body. It's been used for thousands of years to help with asthma and bronchitis and contains powerful antioxidant and anti-inflammatory properties. Specific studies have shown a strong antiviral action against viruses such as the Flu and Herpes. (source)
How To Prepare?
Bring 2 cups of Spring water to a boil
Turn heat to low
Scoop ONE teaspoon of tea into the pot or our

 

heat-sealable teabag
Cover the pot
Steep for 10-15 minutes
ENJOY! (Strain if you didn't use a teabag)

 This information has not been evaluated by the Food and Drug Administration. This product is not intended to diagnose, treat, cure, or prevent any disease. We do not claim to have a cure for any disease. The information on this website is opinion based and for informational purposes only. Consult with a licensed healthcare professional before use.
Immuni-tea Antiviral Tea - 28 Day Supply