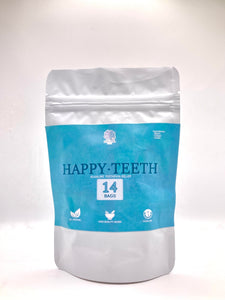 HAPPY TEETH
Our newest blend, Happy Teeth is an alkaline solution to toothpain, infection, swollen gums, etc. THIS IS NOT AN HERBAL TEA BLEND. This product is used by placing a hot tea bag on the affected tooth for 10 - 15 minutes at a time. 
This blend includes 3 alkaline herbs that have a long history of oral benefits:
Whole clove
Ginger root
Myrhh powder
Myrrh has been used for centuries for its medicinal properties, particularly for oral health. It contains a compound called terpenoids, which has antimicrobial and anti-inflammatory properties. When used as a powder for dental hygiene, it can help fight bacteria, plaque, and bad breath, and promote healthy gums.
Clove is a well-known, powerful herb for oral health. Clove contains a compound called eugenol, which has antimicrobial, antifungal, and anti-inflammatory properties. It can help fight bacteria, prevent cavities, and soothe gum inflammation. 
Ginger has many uses, while we use Ginger in other blends for its benefits for gut health, it's also extremely powerful for helping relieve tooth pain, soothing inflamed gums, and fighting bacteria.
HOW TO PREPARE
Pour boiling water over one teabag and let steep for 5 minutes.

Do not consume herbal tea. Pour out contents and keep teabag

Place hot teabag over the affected tooth. 

Keep teabag in your mouth covering the affected area for 10 - 15 minutes.

Repeat as needed for pain \ Take once daily for prevention